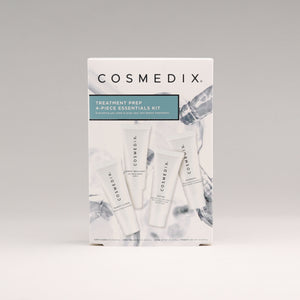 All the essentials to help loosen and exfoliate away dead and damaged skin, while also helping to improve skin tone and restore hydration. 
-Purity Clean | EXFOLIATING CLEANSER Exfoliates, decongests pores, and cleanses skin of surface oil and impurities.
-Simply Brilliant | 24/7 BRIGHTENING TREATMENT Fight the look of discoloration with ten skin-specific brightening ingredients while aiding in the prevention of future sunlight-induced pigmentation.
-Define | AGE-DEFYING TREATMENT WITH HYDROXY ACIDS & RETINOL Retinol and AHAs encourage skin renewal to reduce the appearance of wrinkles and imperfections while evening skin tone and improving moisture retention.
-Hydrate+ | BROAD SPECTRUM SPF 17 MOISTURIZING SUNSCREEN A moisturizing, daily sunscreen with broad spectrum protection and antioxidants.